SCORESHEET OLD TIMERS BASEBALL: A.L. DRAFT / RULES PACKET
Lineup Changes and Trades
Each week, your team will play 12 games, making for a 144-game season. Each week's games are all played on Tuesdays, using each players' performances from the appropriate year.
NOTE: For the 2018-19 Scoresheet Winter Baseball, the first 3 weeks of the season will use stats from 1985, the next 3 weeks use 1986, the following weeks use stats from 1987, and the final 3 weeks are played using stats from 1988.
We must receive any lineup changes by Monday to be able to use them for Tuesday's games. You can send in your lineups and ranking sheets from the Scoresheet website (recommended), by e-mail, or by fax. If sending lineups by fax or e-mail, please send them in by the Sunday night so that we have time to enter them and check for errors before playing games Tuesday morning. Once games are played, they are final! Lineup changes, especially when the year being used changes, are very important. If using postal mail, give the Post Office plenty of time to get your changes here!
You can make unbalanced trades (for example, 3 players for 2), starting the season with a 36-man roster. However, you cannot list more than 30 players on a lineup card. Any players not listed on a lineup card WILL stay on your team's roster, and will be used before any (AAA) players are called up. Also, your team will not have more than 8 pitchers and 16 position players appear in a single game.
Trading of players is allowed until the 10th week of the season. Scoresheet will review all trades to avoid unfair collusion between team owners. We must receive confirmation from both of the teams involved in any trade. There is a 'Report a Trade' link on your league's website, which is the easiest way for teams to notify the Scoresheet office of trades. When you make a trade, we need a new lineup from you (with the players you've traded away removed from your lineup and any new players listed that you want to use in your lineup).
Plus Sign Option
If the Roster Balancing feature is turned on, the "Plus Sign Option" allows you to draft a player even if you already have a player at that position by putting a plus sign (+) next to a player's number on your ranking list. For instance, you may have already drafted a third baseman (3B), but a second 3B is still undrafted when his spot at the top your list is reached during the draft. If you have a plus sign (+) next to the second 3B's player number, the draft system will draft that player even though you already have a third baseman.
A plus sign will only override Roster Balancing for one extra player at each position. For example, you could get a second shortstop, or a 4th starting outfielder, before you get a starting catcher. However, you will NOT get a second backup at a position before you get a starter at all other positions. Once you get a "plussed" player, he counts at that position for Roster Balancing purposes. We feel that the Plus Sign Option should be used sparingly (if you decide to use it at all). Do not overuse the Plus Sign Option. Our Roster Balancing procedures are designed to help you get a balanced team. We recommend keeping the number of plusses you use to under 10! The Plus Sign Option is the reason that some teams may NOT have a starter at every position at Round 14, or have a starter and backup players at every position by Round 29.
Example of "Plussing" a Player:
The screen shot image below shows that that a team owner has 'plussed' the last two players noted on his list, Howard Johnson and Tony Gwynn: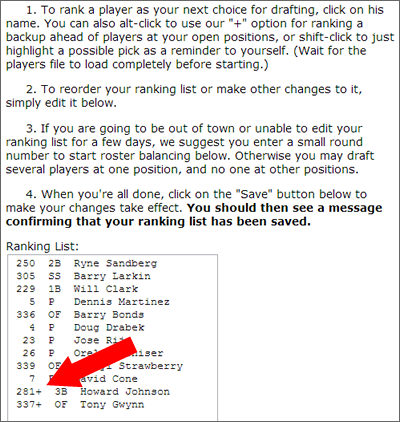 Miscellaneous Rules
Your team will not have more than 8 pitchers and 16 position players appear in a single game.
In Scoresheet Winter Baseball, you can only draft players from those posted on the league-specific (AL or NL) player list. If a player is not on your league's list but played a significant amount of time in 1985-1988, then he is on the other league's player list, and therefore, not eligible for drafting in your league. These player lists are final for position qualifying purposes - if a position is not listed for a player, then he does not qualify there in any of the 4 years! The same is true for pitchers - if a pitcher is listed on the short reliever list, then he cannot start a game in Scoresheet, even if he may have had a couple of starts that particular year in the majors. Also, pitchers on our short reliever list cannot pitch in a game before the 4th inning.
Once games are played, they are final.
10-team leagues are split into two 4-team divisions. At the end of the regular season, the two division winners make the playoffs (no wild card!) The playoffs are a best of 16 series, with 4 games being played using each segment (4 games using 1985 stats and the roster and lineup you had in effect for that segment, 4 games using 1986 stats and the roster and lineup you had in effect for that segment, etc.) If there is a tie after the 16 games, the tiebreaker is run differential in the 16-game series.
In Scoresheet Winter Baseball, all right-handed batters have the same degree of platoon adjustment, and all left-handed hitters are treated the same as all other lefties. The league average for platoon adjustment used in Scoresheet Winter Baseball is: vs RHPs, a RHB's batting average drops by 5 points, and a LHB's batting average raises by 9 points. Against LHPs, a RHB's batting average raises 11 points, and LHB's lose 28 points. (This is different than our regular season game, where a player's platoon adjustment is based on his actual 'platoon difference' from the previous two major league seasons.)
In Scoresheet Winter Baseball, after both stages of the draft are completed, you can trade just one or two years of a player. For instance, you could trade one player's 1985 and 1986 stats for all 4 years of another player's stats - meaning that in 1987, you'd still keep the player you traded for, and you'd also get the player back that you traded away. However, you cannot make partial-year trades in between the first and second stages of the draft. We make those trades before we do the second stage of the draft so that they affect Roster Balancing, and the program cannot handle a 'partial-year' trade!