SCORESHEET FANTASY BASEBALL: ROOT LEAGUES
In addition to our standard leagues, we will also be forming single season leagues with a 'root team' flavor. These root leagues will have 10 teams drafting from either the AL or the NL. Teams will each be based on a major league team. Team owners will pick the team they want when they sign up for a team.
During the draft each team owner must pick a player from their root team's organization in each of rounds 1, 2 and 3 (this is a change for 2013 - in 2012 it was rounds 1, 3 and 5.)
In rounds 4 and 5 teams can only choose players from their own root team or from open teams, but can *not* pick players from other owners' root teams. (This is new for 2013.)
Owners must have 8 players from their own own root team by round 16 (an increase from the the 7 required in 2012) plus all their team's picks in rounds 17 through 29 will come from their root team (that was rounds 17-31 in 2012).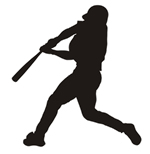 This will all happen automatically in the web draft - the program will simply skip over any players on a team's draft list that are not in their root team's organization in the rounds that they must pick from their root team. The result will be that about half of a team's starters and almost all of their backups and bullpen will be from their root team. This will hopefully make the leagues a lot of fun, while drafting will be greatly simplified compared to a regular draft since rounds 17 thru 29 will just consist of players from your root team.
The draft order in rounds 4 through 16, and rounds 30 through 35, will be done in reverse order of the 2012 major league standings in every one of those rounds. The root leagues will also take part in the regular five 2 round in-season drafts (one draft per month), and those in-season drafts will go in the reverse order of the Scoresheet standings at the time of the draft.
Please note that we have done our best to design the leagues so that teams based on the best major league teams will *not* necessarily have an advantage. For one thing, more of the players from those better real teams will get picked by other owners in the open rounds, which means there will be less players available from those 'better' organizations in rounds 17 thru 29, when team owners can *only* pick players from their root teams. In addition, the draft will be held in reverse order of the 2012 major league won-loss records in the open rounds. So while a team like the Reds certainly has more star players than say the Cubs, Padres or Rockies, those 'weaker' teams will pick ahead of the stronger organizations in every round, plus less of their players will be drafted by other teams in the open rounds (open meaning the rounds where teams can pick whatever player they want). Also, all the mid-season drafts will be open - teams will *not* be restricted to just their own root organization in the five mid-season drafts.
When considering what major league team an undrafted player is on for 'root' considerations, it is the team he is on at that time that matters. So if a player starts out on the Giants, but is traded to the Pirates in real life, he then becomes a Pirate as far as your root draft is concerned. But that is not a retroactive move - if you draft a player in round 3 and he is then later traded to another real life team you still keep that player - once drafted by you a player is yours unless you trade him.
Root leagues will all draft using the web draft, and no trading will be allowed before round 29 ends. (Once round 29 is over then you can trade any of your players or picks.) Since these root leagues are a simpler and quicker version of the normal game, teams in these leagues will be just $59, or $29 if you are new to Scoresheet Baseball.