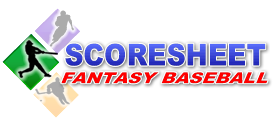 Want to Play the Most Realistic Fantasy Baseball Game Ever?
At Scoresheet, we use your lineups, your strategy choices, and weekly current MLB player stats to simulate 6-7 games each week.
You can even watch your team play (see demo).
How realistic is this compared with other systems for fantasy baseball?
Strategy Features for Scoresheet Baseball
vs Other Fantasy Baseball Systems

| | Features | Yahoo!, ESPN, CBS, etc. |
| --- | --- | --- |
| | MLB Player Transactions | |
| Yes | Draft | Yes |
| Yes | Trade | Yes |
| | | |
| | MLB Player Stats | |
| Yes | Use Stats from Past Week | Yes |
| Yes | Use basic stats: H, HR, SB, ERA, etc. | Yes |
| Yes | Use detailed stats: 1B, 2B, 3B, BB, etc. | No |
| | | |
| | Scoring System | |
| Yes | Play Games | No |
| Scoresheet/Box Score | Display Results | Tabulated Points |
| | | |
| | Hitting Strategy | |
| Yes | Set Batting Order | No |
| Yes | Set Platoons | No |
| Yes | Set Bunt Strategy | No |
| Yes | Set Pinch Hitting Strategy | No |
| | | |
| | Pitching Strategy | |
| Yes | Set Starting Rotation | Yes |
| Yes | Set Criteria to Pull Pitchers | No |
| Yes | Set Lefty/Righty Matchups | No |
| Yes | Choose Closer | No |
| | | |
| | Defensive Strategy | |
| Yes | Tradeoff Hitting vs Defense | No |
| Yes | Substitute by Position | No |
| | | |
| | Fantasy Team Owners | |
| High | Commitment Level | ? |
| Fast | Response Time For Trades | ? |
| High | Baseball Knowledge | ? |
| | | |