WELCOME TO SCORESHEET FANTASY BASEBALL
PLAY THE MOST REALISTIC FANTASY BASEBALL GAME!
Instead of just accumulating 'points', Scoresheet Fantasy Baseball teams play simulated head-to-head, inning-by-inning baseball games, using each player's statistics from the current week.
In Scoresheet Baseball, you will draft a full team of players before the season begins, and then your team will win or lose based on how your players preform throughout the Major League Baseball regular season. But, rather than just adding up stats to determine a winner and loser, in Scoresheet Baseball, your fantasy team will play actual games, at-bat by at-bat, using a computer simulation system we've developed over the past 30 years. Each week of the major league season, your Scoresheet team will play 6 or 7 games on our simulation system using the statistics your players produce that same week in the majors. A complete 162-game schedule is played throughout the season, yet it takes no more of your time to play Scoresheet Baseball than any other fantasy baseball game.
As shown in this video, the realism of Scoresheet Baseball makes for the best fantasy baseball experience anywhere.
You can see every one of your team's games in a text-based play-by-play format on your Scoresheet league's webpage by using our Score-it feature. Scoresheet Baseball is like watching a real ballgame played by your team according to a lineup card that you fill out. No other fantasy baseball game can offer the realistic experience of Scoresheet Baseball.
Once the baseball season begins, all Scoresheet customers will receive a weekly report that includes complete scoresheets for every game they play - league standings, trade reports, player and team stats, league leaders, top undrafted players, team vs. team records are all included. In addition, each league has its own webpage full of information and team management tools.
Your fantasy team, your decisions
Because your Scoresheet Baseball team plays complete ballgames, there is much more to winning than just drafting and trading players - a manager who makes the best use of his players will win those crucial close games.
Is it worth an out to move a runner along?
Is it a good gamble to try to steal second?
Those are the types of decisions you will need to make as a Scoresheet Baseball manager. As shown on our sample lineup cards, you will set your batting order and pitching rotation, and also decide when to:
platoon
steal
bunt
pinch hit

remove a tiring pitcher
use each reliever
bring in a closer
make a defensive replacement
As with any fantasy sports system, your team's performance depends on how your players perform in real life each week of the major league season. But with a Scoresheet Baseball team, you will experience the added enjoyment of knowing that your managerial decisions, and virtually everything your players do on the field, are playing a key role in your team's success.

OUR FANTASY BASEBALL SIMULATION MEANS THE MOST REALISM & FUN!
Do you think that middle relievers, good defense, and a manager's strategies all play an important part in real baseball? Well, so do we, and that is why we designed Scoresheet Baseball so that your fantasy team plays complete games, one at-bat at a time.
Point-adding fantasy games just don't compare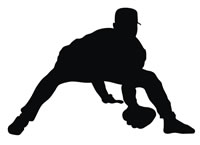 The problem with other fantasy baseball games that just add up 'points' is that the better baseball team often doesn't win. In those games, a few categories like stolen bases are overemphasized, while entire aspects of baseball such as creating batting orders, sacrificing, pinch hitting, platooning, fielding, setup men, etc., are ignored. At Scoresheet, we don't decide that a home run is worth 4 'points', and a pitching win is worth 2 'points'. Instead, Scoresheet Baseball teams play complete games based on managerial strategies, as well as the current week's major league box scores. The results are so realistic that Baseball Weekly asked us to simulate an entire major league season for one of their feature articles. Further, the San Francisco Chronicle said "Comparing Scoresheet Baseball to other fantasy games is like comparing chess to checkers."
Each at-bat during a Scoresheet Baseball game, our sim engine calculates the chances of a base hit, home run, out, error, etc., based on the actual performances of the game's batter, pitcher, and fielders during that week in the majors. For example, the better a batter hits during the current week in the majors, or the more hits per 9 innings that a pitcher gave up that week, the higher the probability of a hit in that Scoresheet at-bat. Based on those probabilities, our computer system determines the outcome of each play. Similar formulas apply for extra base hits, walks, strikeouts, etc. - virtually every official baseball statistic is used in a Scoresheet Baseball game to produce a fantasy baseball experience that is second to none.
For the last 28 years, Scoresheet has constantly upgraded and fine-tuned its game program to produce the most realistic fantasy baseball simulation available anywhere. We are proud to say that our team owners continue to tell us (and their friends) how fun and realistic our game is. We are avid baseball fans ourselves and have tried to include all of the subtleties that make baseball such a great game. But the computer system handles all the details - your managing is actually quite simple. For instance, since fielding range numbers are generally hard to find, we include them for every player in the draft packet. Some of the finer points that make our game the most realistic baseball simulation are listed below.
Batting
Each batter's actual numbers of singles, doubles, triples, home runs, walks, strikeouts and at-bats that week in the majors are used - not just his batting average and number of home runs.
Batters hit differently against left-handed and right-handed pitchers.
Team-dependent stats, such as the number of RBIs and runs scored matter much less than individual stats such as slugging percentage or on-base percentage.
Sacrifice bunting and pinch hitting only happen for batters you specify, and only if the game situation warrants it.
Pitching
Each pitcher's complete stats are used, including the number of strikeouts, walks, hits, earned runs and innings pitched he recorded that week in the majors - even wild pitches!
Pitchers "pitch carefully" when first base is open and a runner is in scoring position, giving up more walks but fewer big hits.
Team-dependent stats such as wins and saves matter less than individual stats such as ERA.
Your closer will only pitch in save situations.
Fielding
Errors and passed balls are based on the fielder's actual stats that week.
Better fielders get to more balls. Each player's fielding range is considered.
Better catchers throw out more runners, and are run on less often.
Players who play more than one position in the majors can also switch positions in Scoresheet Baseball.
Base Running
Runners can only steal as often, and with as much success, as they did in the majors that week.
Fast runners score more often from second on a single.
Slow batters ground into more double plays.
Runners sometimes advance farther on a hit with 2 outs, since they run with the crack of the bat.
Once you play Scoresheet Baseball, we think you will agree: it's simply the best fantasy baseball simulation game anywhere - and the most fun to play!
Fantasy Baseball that Experts Agree On

Scoresheet's unique fantasy baseball game is a favorite among industry experts like Ron Shandler, author of Baseball Forecaster and publisher of the information-packed Baseball HQ website.
| | |
| --- | --- |
| Scoresheet's realism is one of the game's best features. And it's also a favorite reason why Todd Zola of Mastersball.com chose to join a Scoresheet fantasy baseball league. And now, he's a Scoresheet regular. | |
CHOOSE YOUR LEAGUE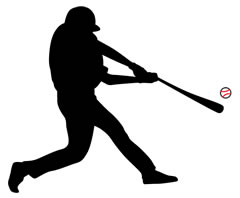 Join alone or with just a few friends, and we will put you in a league with other individual owners. Because we feel part of the fun of managing and trading is having realistic teams, the regular single-season leagues we form are 10-team leagues in either the National or American league. Leagues are split into divisions. At the end of the season, we hold playoff series involving the division winners, along with one wild card team.
To take part in a league drafting on the Scoresheet website, you can join anytime from January through mid-March. However, the earlier you join, the more time you will have to enjoy the complete draft, which for many of us is the best part of the whole season.
Got a group? Form a fantasy baseball league of your own
You can also join with a larger group of friends and form your own complete league. With your own 'private' league, you can have any number of teams, and can choose to draft just AL or NL players, or choose to draft from both leagues if you like. With your own league, you can also choose to either hold your own draft, or use our web-based draft system. You can also choose to send in player ranking lists and have Scoresheet run your draft for you. If you are looking to join a league that holds its own private draft either in person, by phone, or online, check out our message board, where anyone can post notes about forming new leagues.
Scoresheet also runs perpetual (continuing or keeper) leagues that allow owners to keep players from year to year. However, we suggest that you play Scoresheet Baseball for at least one season before committing to a perpetual league.
Root Leagues
We also offer single-season leagues with a 'root team' flavor. These leagues also have 10 teams, either in the AL or NL. Root league teams will each be based on a major league team, with team owners choosing with which major league team they want to be associated before they join. During the draft, each team owner will pick players from their root team's organization such thatabout half your starters and almost all of your backups and bullpen would be from your root team. You can read more about the root leagues at: Root Leagues.

COMPLETE CONTROL OF YOUR DRAFT AND TRADES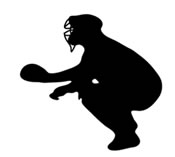 Scoresheet's web-based draft system lets you change your player ranking list between every round of the draft, giving you the same control as if you were doing a live in-person draft. The draft process begins by ranking players in whatever order you value them. In each round of the draft, as your turn comes up, you will get the highest-ranked available (undrafted) player on your list, subject to our optional Roster Balancing rules. Unlike games with pools of players, this is a real draft - Miguel Cabrera can only be on one team in each league, for instance. A full explanation of our drafting system is included in our drafting packet, and you can read more about it here: Web Drafting.
There is more to a Scoresheet draft than just picking the players who will have the most home runs or stolen bases! Because your Scoresheet team plays simulated ballgames, there is an element of realism that is lost in other fantasy systems. Drafting a fast leadoff guy to score from second on a single, solid middle relievers to get to your closer, and speedy fielders to close off the gaps are are important considerations in real baseball, and are just as important in Scoresheet Baseball.
Many other fantasy draft systems make you rank positions first, and then rank each player within the position. In a Scoresheet draft, your ranking list can mix individual players from different positions, giving you the greatest possible choice of who you can draft on your team at any time. We have found that our customers greatly prefer a Scoresheet draft to the complicated auction systems used by some other companies, as our draft emphasizes baseball knowledge rather than salary management.
During the pre-season, you'll draft 35 players for your team. You'll also take part in five mid-season drafts of two players each, allowing you to acquire players such as surprising rookies that were not picked up in the pre-season. This large roster allows you to substitute for players who are injured or sent to the minors, and gives you flexibility to juggle your lineup or make trades.
As soon as we receive your order form, we will send out complete drafting information including player lists and full drafting rules. The draft packet includes almost everyone on the AL or NL 40-man major league rosters, along with many top prospects. Players are grouped by position, and each player's major league team, age, from which side he bats or pitches, and fielding range are included.
Wheel and deal like a real GM
For many baseball fans, the opportunity to trade players is the best part of owning a fantasy baseball team. Trading is especially fun in Scoresheet Baseball, because realistic teams and complete simulated ballgames allow you to consider every element of baseball in your decisions. You'll decide what your team needs. Perhaps, you may need a leadoff hitter who gets on base a lot, a left-handed bat, or a deeper bullpen. It's up to you to decide. Maybe you want to build for the future and get draft picks (in a continuing league), or go for it all now and make a big trade that could put you over the top this season.
You can make an unlimited number of trades up to the trading deadline, including unbalanced trades (such as three players for two). You can even trade rights to mid-season draft picks. You'll have the chance to talk over real trade ideas with other owners, and to see the results of your deals reflected in actual games. Scoresheet monitors all trades for fairness, and no trades are allowed after the first week of September.

GET IN ON THE FUN!
Owning a single Scoresheet Baseball team costs just $89. For those of you joining in groups of 5 or more, the price drops to $79 per team. For flexibility, you can pay just $35 with your order form and the remaining balance when your draft list is sent in. And if you have never played Scoresheet Baseball before, you qualify for our special introductory offer of just $29 per team! Your franchise fee pays for:
Lineup cards that make it easy
Scoresheet has designed lineup cards that do not require you to turn in a new lineup every time an injury occurs - you simply list your backup players in the order you want them to play, and your starters are automatically substituted for if they miss games. However, if and when you want to make a strategy change, you certainly can. As long as you use our website's lineup card feature to make changes, there is no charge for turning in new lineups. Also, there is NO charge for trades or for picking up players during the season.
Running a great fantasy baseball game is our focus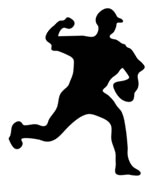 We have put over 30 years into making Scoresheet Fantasy Sports games as much fun as possible. Considering how many hours you spend following baseball each year, you owe it to yourself to play the very best fantasy game you can find. Our success over the years has been due to repeat business and word-of-mouth advertising from over 7,500 satisfied team owners.
At Scoresheet, we do not offer the cash prizes some 'contests' do. To offer cash prizes we'd have to raise prices, and more importantly, we'd have to change our game completely. We could no longer put teams into leagues since owners would just collude to make unfair trades in an effort to win. We believe the fun of playing fantasy sports is being in an actual league, where a player can only be on one team, where making trades with other baseball fans is part of the fun, and where you compete directly against the other team owners.
See how much fun playing fantasy baseball can be. As some of our team owners have proclaimed: "Scoresheet makes you a total baseball fan"; "It just gets better every year"; "Far superior to rotisserie or stat games". Every year, better than 9 out of every 10 Scoresheet Baseball team owners return for another great season. So join the many thousands of satisfied fantasy team owners and Play the Best - Play Scoresheet!