WELCOME TO SCORESHEET OLD TIMERS (WINTER) FANTASY BASEBALL
For the upcoming 2020-21 winter season, Scoresheet will be using players and their stats from years 1988-1991.
Don't miss out on the fun of playing fantasy baseball this off-season!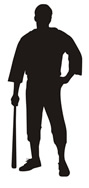 Rather than spending a long winter waiting for spring training, you could spend your time reliving some of baseball's greatest times as you draft, trade and manage such players as Greg Maddux or Dale Murphy from the NL or Cal Ripken or Roger Clemens if you choose to play in an American League.
Since the stats are known to all team owners, it is the kind of team you draft, combined with how you choose to use your players, that will determine how well your team does. Will you go for top hitters such as Fred McGriff or Joe Carter? Or will you go after an all-star pitcher such as Dave Stewart or Doug Drabek?
Join a National League and maybe you'll pick Will Clark to bat third, or Ryne Sandberg to bat leadoff. You could choose to spend a top pick on a pitcher such as David Cone, or go for the great hitting of Bobby Bonilla. In the American League, such players as Mark Langston, Mark McGwire, Paul Molitor and Wade Boggs will all go early in the draft. Since a player can only be on one team in each league, you'll have to make the tough decisions as for who to draft or trade for. In addition, lesser known players such as Greg Gagne, Bobby Witt, Mike LaValliere and Dickie Thon will also play crucial roles on your team like they did in real life.
Just as in our Scoresheet Baseball regular season game, your team will play complete simulated games, based on your players' major league performances from 1988-1991. If you join a public league, your league's draft will begin at the end of October or early November (the exact date will depend on when you sign up), and will run until early December. Following the draft, the 12-week season runs from mid-December through early March, taking you right up to spring training. For every game your team plays, you will receive a scoresheet like this one: sample scoresheet for the winter game. You can also see games played out in a text based play-by-play format.
Scoresheet Winter Baseball will use 1988 stats for the first 3 weeks of the season, 1989 stats for the next 3 weeks, 1990 stats for the 3 following weeks, and 1991 stats for the final 3 weeks. Of course, all of the games are played on our computer system - you get the fun of running your team while we do all of the work.

Draft Your Favorites of the Era
Scoresheet will be forming 10-team leagues of either American League or National League players only. Each league is split into 2 divisions. At the end of the regular season, we play a League Championship Series, based on all 4 year's statistics, between the two division winners.
Before the season starts, you'll draft a 36-man team. The large roster, together with trading (which is even more fun than trading baseball cards as kids), allows you to cover each of the 4 years with both starters and backups. Each week, we limit your players to their playing time in an average 12-game span in the corresponding year in the major leagues.Thus, a good bullpen and a strong bench are very important.
The Scoresheet web-based draft system is not one where you have to log on during a set time slot to make a pick, and it is not a chat room draft where you have to log on for hours. Instead, as each team's pick comes up, our draft program will pick the top available player from a draft list that you can change and save to the Scoresheet website. By being able to make changes to your draft list at any time, you can adjust your player rankings before every one of your draft picks, giving you the same control as if you were at a live draft.
Try New Strategies
You can really see the effects of various strategies and use your managerial skills to decide when to:
platoon
steal
pinch hit
lay down a sacrifice bunt

remove a tiring pitcher
use each reliever
bring in a closer
make a defensive replacement
Almost all owners who play the off-season baseball game are avid traders. And since unexpected injuries are not a factor, and each player's stats are already known, the winter "old timers" game truly measures how well you put an actual baseball team together, and it is a great test of your managerial strategies.
The drafting packet you will receive when you sign up for a team lists players by position, sorted by at-bats or innings pitched in 1988-91. There will also be a few stats included with each player, such as yearly batting average and home runs hit, at-bats or innings pitched, and ERA. Players' fielding numbers, as used in Scoresheet Baseball, will also be included, along with the positions at which the players qualify.
Join Alone or With Friends
You can join alone, and we will put you in a league with other individual team owners. Those leagues will draft using our web-based draft system where you will have the same control over the draft as if you were doing it live.

If you enter with a couple of friends, you can play in the same league. Or, if you already have a larger group, you can sign up as a whole league. With your own league, you can choose to have any number of teams in your league, and you can also choose to draft players from both the AL and NL (a combined league). Also with your own league, you can either hold your own draft or use our web-based draft.
The fee for a winter baseball team is $64, which is the complete cost for the season- there are NO lineup change or transaction fees. And new players (anyone who has not played winter baseball with us before) can play for just $29!
Every league will have its own webpage with complete weekly statistics featuring league standings, individual and team stats, trade offers and results, a weekly newsletter, league leaders, team-vs-team records, and the best and worst team stats in all of Scoresheet Winter Baseball. Plus, you'll be able to access our Score-It feature that allows you "see" your games played from start to finish. You will also receive emailed reports for your league, and printed versions can also be mailed to you at a slight additional cost.
Have the most fun
Scoresheet Old Timers Winter Fantasy Baseball gives you the chance to once again enjoy great players of the past, to talk trades with other baseball fans, and to test all of your baseball managerial strategies during the long MLB off-season ahead.If you'd like to reserve a spot in a league, please sign up online, or you can print out the order form and send it in by fax or mail, or you can give us a call at (530) 470-1880.
Don't go without baseball during the off-season.Instead, play ball with Scoresheet Old Timers Winter Baseball!