SCORESHEET OLD TIMERS BASEBALL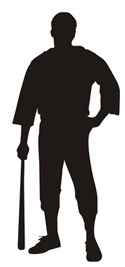 Relive Baseball History with Players of the Past
How would you like to enjoy this off-season having Hank Aaron hit home runs for your baseball team? Instead of spending the off-season with no baseball, now you can have fun drafting, trading, and managing your team of players from the years 1969-1972.
Join a National League, and maybe you'll get Jim Wynn to bat third or Pete Rose to bat leadoff. You could choose to spend a top pick on a pitcher such as Tom Seaver, or go for the great hitting of Willie McCovey. In the American League, such players as Jim Palmer, Reggie Smith, Tony Oliva and Sal Bando will all go in the first few rounds.
Just as in our regular season Scoresheet Baseball game, your team will play complete simulated games, based on your players' major league performances from 1969-1972. Drafting will begin in early November and continue until early December, and the 12-week season runs from mid-December through early March, taking you right up to spring training. We'll use 1969 stats for the first 3 weeks, then 1970 stats for the next 3 weeks, 1971 stats for the 3 following weeks, and 1972 stats for the last 3 weeks. Changing the stats used every 3 weeks will keep you supplied with fresh challenges, as you trade or change your lineup to get the most from your team. And in Scoresheet Old Timers Winter Baseball, all trades and lineup changes are free! Of course, all the games are played on our simulation system while you get the fun of running your team.
As in all of our games, a player can only be drafted by one team in each league. Once the draft is over, we have found that trading in these winter leagues hits a fever pitch. This is your chance to discuss blockbusters such as Joe Morgan for Ron Santo, or Frank Howard for a package of pitchers. You will get to see exactly how your trades work out as your read over your results each week. And to help refresh your memory of these past players, we print year-by-year statistics for each player in the draft packet.
Your team will play 12 games a week, for a full 144 game schedule. We'll send you a complete scoresheet for every game your team plays. Games can also be viewed on the Scoresheet website in a text based play-by-play format with our Score-It feature. You'll also receive: league standings, individual and team stats, trade offers and results, a weekly newsletter, league leaders, team-vs-team records, and the best and worst team stats in all of Scoresheet Winter Baseball. League winners will be awarded trophies engraved with names and accomplishments.