SCORESHEET OLD TIMERS FANTASY BASEBALL: TRY NEW STRATEGIES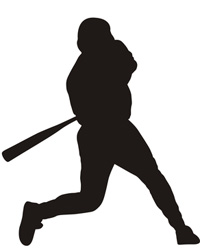 Not only is this winter game a great memory trip, it also is a chance to test your theories of what wins baseball games. If you think that pitching is 90% of the game then you should certainly list a lot of pitchers at the top of your ranking sheet. Or if you are a fan of the 3-run homer, put sluggers such as Howard Johnson or Mark McGwire at the top of your list. Speed and defense will also play a big part in each team's success - you'll have to balance a player's hitting with how much his defense helps (or hurts) your pitchers. Fielding numbers as used in Scoresheet are also included in the draft packet for each player. We have found that with player stats being known to all, these leagues have some very evenly matched teams, making for great pennant races.
Since the luck of unknown injuries isn't a factor, this is also a great game for testing your managerial ideas. You can really see the effects of various strategies controlling stealing, bunting, pinch hitting, earliest innings for pitchers, use of closers and setup men, and defensive replacements.
One of the best parts of this winter game is getting to know your fellow managers. Every year, our most knowledgeable and enthusiastic Scoresheet fans sign up to play. Virtually all of them are avid traders, especially since our 4-year format encourages trading to fill holes (and since lineup changes are free in the winter game!) You'll be playing with our most experienced team owners from across the country, and find out what strategies have worked best for them.
Draft the Stars
We will be forming 10-team leagues of either American League or National League players only. Each league is split into 2 divisions. At the end of the season we play a League Championship Series, based on all 4 year's stats, between the two division winners.
If you and your friends want to form a complete league and draft among yourselves, please feel free to call or email and we can go over your special needs. We are quite flexible, and can run a league of any size for you, including a combined league with players from both the A.L. and the N.L.
Before the season, you'll draft a 36-man team. The large roster, together with trading (which is even more fun than trading baseball cards as kids used to be!) allows you to cover each of the 4 years with both starters and backups. Each week, we limit your players to their playing time in an average 12-game span in the corresponding year in the majors. Thus a good bullpen and a strong bench are also important.
By using our web draft system, team owners can enter a draft list on the web and then will be able to change their list as often as they like as the draft goes on (between every pick if desired.)
Our web-based draft is not one where you have to log on during a set time slot to make a pick, and it is not a chat room draft where you have to log on for hours. Instead, as each team's pick comes up our program will pick the top available player from a list that you can change and save to the web at any time. By being able to make changes at any time you can adjust your list before every one of your picks, giving you the same control as if you were at a live draft.
Your draft list will be password protected so that only you can see it. As each pick is made it will be posted for everyone to see and your league roster will be updated.
The exact draft schedule for your league will be posted before the draft begins so that team owners know when each of their picks will be made. There is also a more detailed description of how this web-based draft will work on our web site at web drafting info.
As soon as we receive your order form we will send you back a complete drafting packet. The drafting packet lists all eligible players by position, sorted accorded to at-bats or innings pitched in 1988-91. Summary stats are printed for each player, including yearly batting average and home runs hit, at-bats or innings pitched, ERA and fielding numbers.
We will be forming leagues through early November, with our web drafts set to being about a week after your league is formed. Please send in your order form or sign up online as early as possible to begin enjoying the draft!